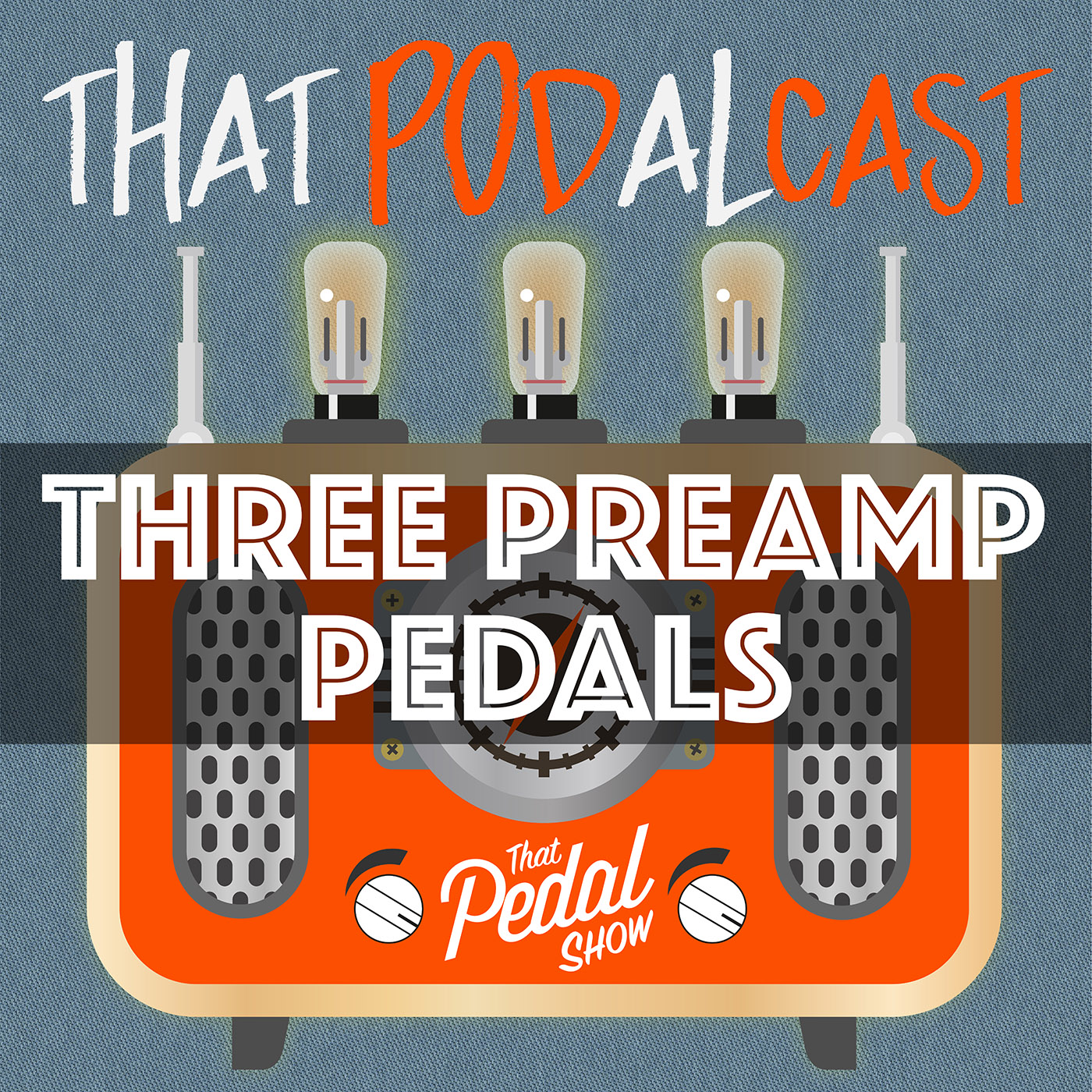 This is the audio from our video posted here:
In this episode we take a look at three professional quality pedal preamps capable of Marshall 'plexi'-type tones. That term of course means many things to many people so we don't spend too long worrying about it… but we do spend absolutely bloomin' ages listening to the new V4 The Sheriff pedal from Victory, our old favourite Kingsley Constable V2 and the Origin Effects Revival Drive.
One key difference between a pedal preamp and a 'normal' OD pedal is the way they are designed to be used. Typically a preamp has much more output and EQ scope and is therefore able to feed straight into a power amp or FX loop return, essentially adding a whole alternative front end to your amp/board/recording setup. Most 'normal' pedals don't sound at their best used that way and perform better in conjunction with the front end of your amp. Which is great when you love your amp... but if you don't, or want something entirely different, a whole separate preamp could be the answer.
Whether they actually sound like a Marshall Plexi is a moot point. Much more interesting is the depth and range of their sounds when hitting the power section of your favourite amp. Thus, we hook up the trusty Fender Hot Rod Deluxe and work our way through a bunch of guitars.
This is a really, really long video – we admit that Dan and I take way too long getting to the point here, even for us. So we're making some new rules about video length from now on. Nevertheless, if you use the interesting bits and go-to sections information below, you can get some of your life back. Maybe. Better still, go and find somebody you like and spend real human time with them. It really is better than watching YouTube.
Please enjoy the episode!
Pedals in this episode…
• TheGigRig Three2One

https://www.thegigrig.com/three2one
• 

Origin Effects Revival Drive Custom

UK & Europe: http://bit.ly/2w7XdLr

USA: http://bit.ly/2Mi9nvO

Australia: http://bit.ly/2MHlqz4


• Victory V4 The Sheriff

UK & Europe: http://bit.ly/2OJmLGQ
USA: http://bit.ly/2xu2H4t
• Kingsley Constable V2
http://bit.ly/2NZ2Vdj
• Fender Mirror Image Delay

UK & Europe: http://bit.ly/2E4m9W0
USA: http://bit.ly/2GnRbdw
Why do we have preferred retailer links? Find out here: http://www.thatpedalshow.com/partners
Interesting bits and go-to sections…
- Intro playing: 00:00
- An altered experience and today's context: 1:25
- Revival Drive recollections: 2:30
- Victory V4 Pedals: 3:28
- Constable, Revival Drive & Sheriff? 4:40
- What about those weird valves then? 5:20
- The Victory Four Cable Method: 7:20
- Today's signal path: 7:40
- Kingsley Constable: 8:36 (9:20)
- Victory V4 Sheriff: 14:04
- EQ affecting gain: 15:34
- The Mick's fallen out of love with his Strat tangent: 18:05
- The new Strat journey? 19:10
- Origin Revival Drive: 21:27 (21:41)
- Revival Drive & Constable and RD's EQ: 24:20
- RD & Sheriff & Kingsley: 27:00
- Plexi? It means different things… 28:43
- Amp in a room vs the recorded guitar sound: 30:00
- Thanks to Jaques and the Royer R121: 30:25
- All three pedals played with…
…Dan's Tele: 33:35
…Mick's Gretsch: 35:01
…Dan's Les Paul: 36:30
…Mick's white Strat: 37:30
…More Les Paul and some delay: 39:40
- Mick's current guitar nightmare: 46:55
- Cleaner sounds from the pedals…
…Sheriff & Constable: 49:40
…Revival Drive: 52:23
- The Sheriff 4-cable method in action: 1:00:40 (sound starts at 1:04:30)
- Can you still use other effects in the loop? 1:06:55
- Why would you use a pedal like this anyway? 1:09:10
- Victory V4 Sheriff into the front of the amp? 1:10:04
- Closing thoughts: 1:16:55
Amps in this video:
• Fender Hot Rod Deluxe VIII with standard speaker
Guitars in this video:
• Gibson Memphis 1958 ES-335 - no video yet
• Fender Custom Shop '63 Telecaster – watch Dan's video at
• Gretsch G5422TG Electromatic - watch Mick's video at http://bit.ly/2p9U1MU
• Gibson Custom 1958 Les Paul Standard – watch Dan's video at http://bit.ly/2dbwbvS
• Fender '60s Reverse Headstock Strat - watch Mick's video at http://bit.ly/2BuMqMZ
We hope you enjoy this video. Please subscribe to our channel.
You may even want to buy a T-shirt to support our efforts https://www.thatpedalshowstore.com
We are also on Patreon – crowdfunding for creatives
https://www.patreon.com/ThatPedalShow
Please visit our preferred retailers!
UK & Europe: Andertons Music http://bit.ly/2cRvIvt
USA: Riff City Guitar & Music Company http://bit.ly/2cyOYjD
Australia: Pedal Empire http://bit.ly/2mWmJQf