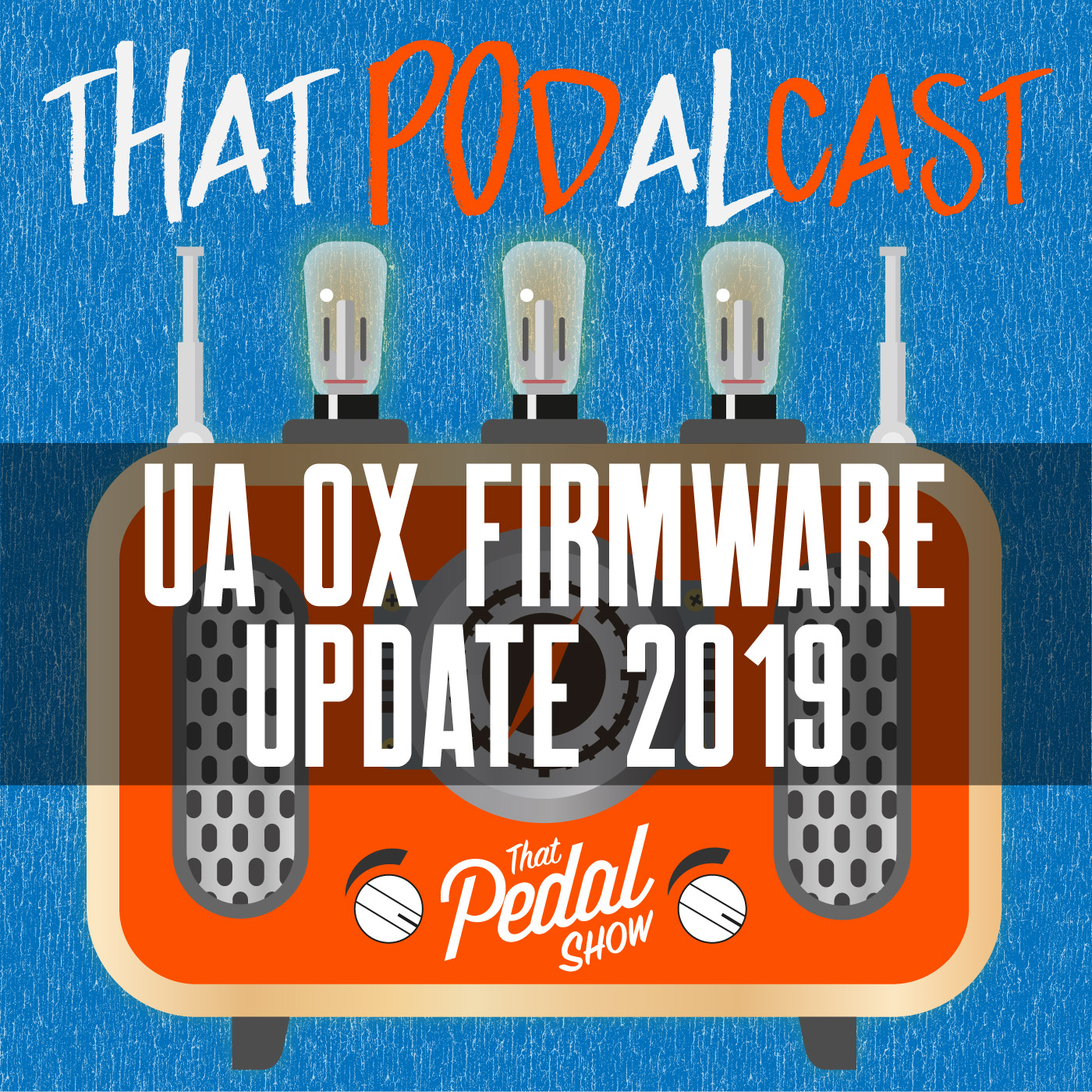 This is the audio from our video here: https://youtu.be/4ElQmEL-IrE
We try out the new cabinets in Universal Audio's OX firmware update (November 2019), crank our 1973 Hiwatt DR103 and catch up with our old friend Tore Mogensen, formerly of TC Electronic
Life too short for long YouTube videos? Please see the 'Interesting bits and go-to sections' information below.
Welcome! Regular viewers will know that Dan and I are deeply smitten with Universal Audio's range of audio interfaces and plug-ins for recording: truly fantastic stuff that has powered TPS for around two years now. UA is also behind the much loved OX Box, a reactive load attenuator and speaker/cab/mic simulation software application for your valve amp. Dan and I went to Real World Studios to make some actual music with it when it came out. Check it out: https://youtu.be/g5Ly5O2MjfY
And we made two tracks: Mick – https://youtu.be/HepnOBCsRs0 and Dan – https://youtu.be/rBLUJzYg-U8
Late in 2019 UA announced a firmware update for OX, adding some much requested Celestion Vintage 30 cabinets and a couple of other cool things. Even better, our old chum Tore Mogensen (formerly of TC Electronic) has finished his first year as a product manager at UA, so took the opportunity to drop in and walk us through it.
In the OX bits for the main bulk of the show, you're hearing the OX direct output only. No actual mics or speakers. At the end of the show when we crank the Hiwatt, that's the actual mic'd cabinet in the room.
Enjoy the episode!
Pedals & stuff in this episode…
Universal Audio OX
UK & Europe: http://bit.ly/2JxqKmd
TheGigRig Three2One
https://www.thegigrig.com/three2one
ZVEX Box of Rock
Australia: http://bit.ly/35Fg4h8
Tru-Fi Colordriver
http://tru-fi.com/
Australia: http://bit.ly/38SqzzP
Jam Pedals Waterfall
UK & Europe: http://bit.ly/2MifNem
Diamond Memory Lane Jr
http://www.diamondpedals.com/products/memory-lane-jr/
Fender Marine Layer Reverb
UK & Europe: http://bit.ly/2E6IvWR
USA: http://bit.ly/2Ddoksr
Peterson Strobostomp HD
UK & Europe: http://bit.ly/2Ozf60o
Australia: http://bit.ly/2lM39so
TheGigRig G2
* Why do we have preferred retailer links? Find out here: http://www.thatpedalshow.com/partners
Interesting bits and go-to sections…
Intro playing: 0:00

Welcome Tor!: 00:59

Remind me, what is the OX?: 02:58

So what's new from OX?: 03:39

The Hiwatt makes a triumphant return!: 04:10

Lets start with V30s and a boogie style cab: 06:37

What modelled mics are being used?: 08:30

A summary of what OX is modelling: 12:20

And V30s in a Marshall style cab: 13:29

A tangent on the Hiwatt and amp EQ: 15:00

Lets AB the two V30 loaded cabs: 15:58

Tor discusses trying your amp out with different cabs: 17:25

Onto a 4x12 with 30 watt greenbacks: 18:13

To clean land and a JBL loaded 2x12: 22:30

And another… but with a lovely back story: 27:40

A look at some of the effects built into OX: 31:50

Will we see any new UA Gear from Tor soon?: 38:03

WE UNLEASH THE HIWATT: 41:01
Guitars in this episode:
Amps in this episode
Hiwatt DR 103 with Marshall 1960AX cab / Celestion G12M Greenback speakers
We hope you enjoy this episode. Please subscribe to our channel.
You can buy TPS merch to support our efforts https://www.thatpedalshowstore.com
We are on Patreon – crowdfunding for creatives
https://www.patreon.com/ThatPedalShow
Please visit our preferred retailers!
UK & Europe: Andertons Music http://bit.ly/2cRvIvt
Australia: Pedal Empire http://bit.ly/2mWmJQf