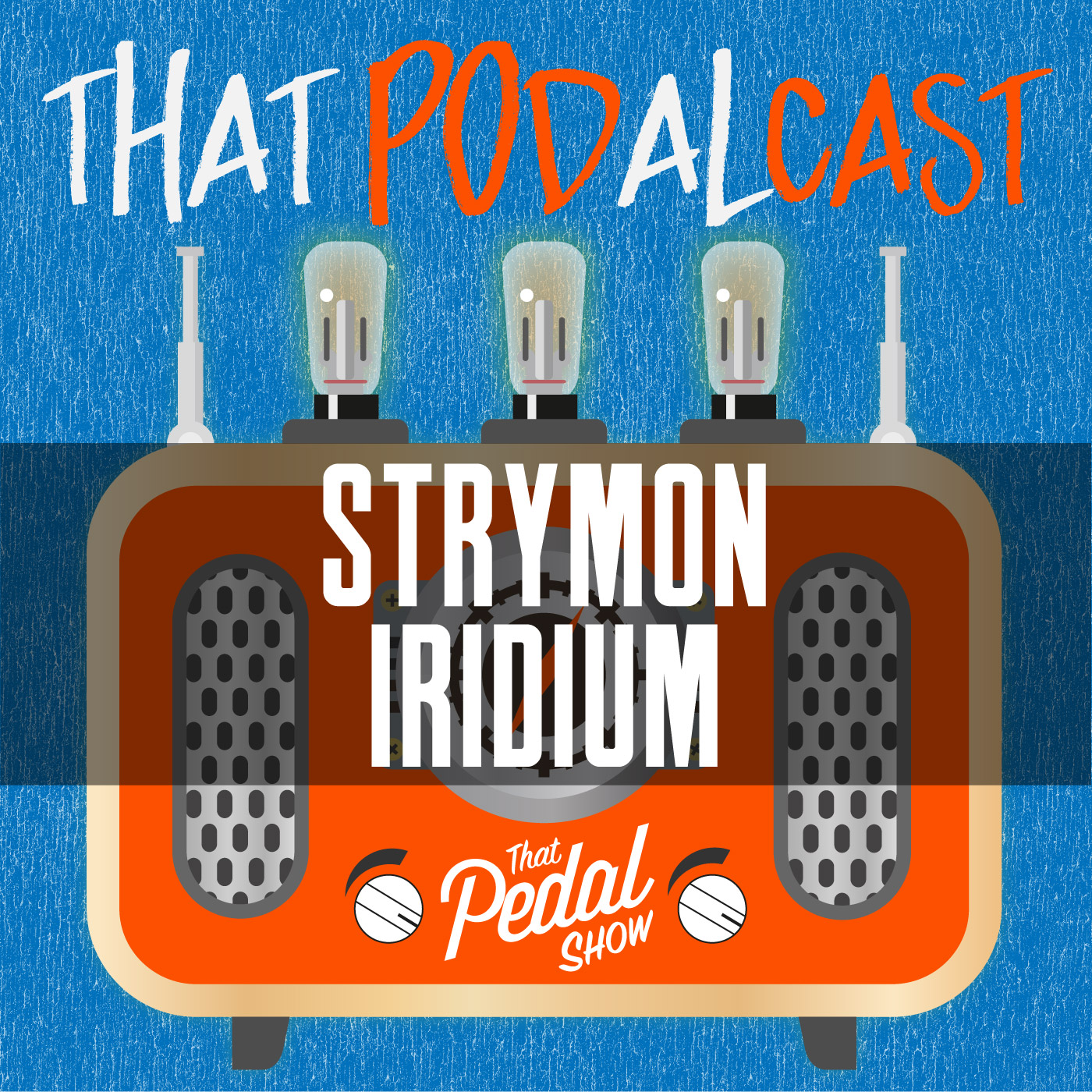 This is the audio from our video here: https://youtu.be/XKmN-Dykgjk
We demo the Strymon Iridium amp, cab and room simulator pedal alongside Vox AC30 and Fender Super Reverb guitar amplifiers. We use a selection of effects pedals including overdrive, fuzz & delay.
Life too short for long YouTube videos? See 'Interesting bits and go-to sections' below.
Welcome! Regular viewers will know that Dan and I aren't regular users of digital modelling amps and cabs. Why? Well, because we own pretty much all the real stuff and we absolutely love playing it for a whole host of reasons.
Nevertheless, we are genuinely intrigued by the Strymon Iridium because of its simplicity, form factor and adaptability into traditional pedalboards. That is what this video is about, plus some comparisons with some 'real' amps. Thus…
WHAT AM I HEARING?
The actual valve amps are mic'd with Sontronics Delta 2 ribbon mics on the cabs, plus a pair of AKG C414 XLS mid-side for stereo room mics. They go into a Universal Audio Apollo 8p interface running Neve 1073 mic preamp plugins.
The Iridium is going direct to stereo channels in the Apollo 8p with no additional preamps. It is a purely direct signal: no microphones. In the studio we are hearing the Iridium's direct sound through 1500-watt EV PA speakers.
WHY DIDN'T YOU USE A FENDER DELUXE REVERB?
We don't own one. We do have a Super Reverb which isn't the same thing, but it is close enough for an interesting comparison.
We will do a VCQ this Monday to discuss the reaction and comments. Should be fun. Enjoy the episode!
Pedals etc in this episode…
TheGigRig Three2One
https://www.thegigrig.com/three2one
• Peterson StroboStomp HD
UK & Europe: http://bit.ly/2Ozf60o
USA: http://bit.ly/2pHMvvY
Australia: http://bit.ly/2lM39so
• Strymon Iridium
UK & Europe: http://bit.ly/2qEAlnA
USA: http://bit.ly/2CGb3YV
Australia: http://bit.ly/36XmmKq
• Keeley D&M Drive
UK & Europe: http://bit.ly/2oTblU1
USA: http://bit.ly/2quRShW
Australia: http://bit.ly/2pUDUAE
• ZVEX Fuzz Factory 7
https://www.zvex.com/guitar-pedals/fuzz-factory-7-guitar-effects-pedal-rus
• Analogman King Of Tone
http://www.analogman.com/kingtone.htm
• Jam Pedals Ripply Fall
UK & Europe: http://bit.ly/2PoxKu0
• Diamond Memory Lane Jr
http://www.diamondpedals.com/products/memory-lane-jr/
• Walrus Audio Fathom
UK & Europe: http://bit.ly/2Jxexiz
USA: http://bit.ly/2X7OlT4
Australia: http://bit.ly/2JsVFRM
• Fender Newport Bluetooth Speaker
USA: http://bit.ly/34YWTOC
• TheGigRig G2
https://www.thegigrig.com/g2
* Why the preferred retailer links? Read this: http://www.thatpedalshow.com/partners
Interesting bits & go-to sections…
- Intro playing: 0:00
- What are we doing?: 2:50
- The excuses begin: 3:52
- Why no Kemper/Helix?: 4:32
- …why make an exception for Iridium?: 5:37
- Big up Pete Celi!
- What is it?: 7:35
- TWO MAIN QUESTIONS?: 8:48
- Today's pedalboard: 09:53
- Where does Iridium go on my board?: 10:41
- FRFR: full range flat response: 11:03
- Stereo Iridium and IRs?: 11:23
- Delay and reverb after Iridium?: 11:50
- '65 Deluxe Reverb: 13:34
- …and with Room: 15:48
- Comparing three cabs on the Deluxe Reverb: 17:20
- Sounds like a recorded guitar: 18:50
- Things a loud valve amp can't do:19:55
- What about a bluetooth speaker?: 20:28
- You're using the wrong IRs! 24:15
- Iridium Vox AC30 model and various IRs: 24:30
- Iridium 100-watt Marshall Plexi and various IR's: 28:15
- The Room control is fab! 31:46
- Cabs on the Marshall model: 32:45
- Marshall model with Strat: 33:16
- That guitar! 35:30
- What's missing? 36:30
- Additional features: 38:23
- Inputs and outputs: 40:33
- Compared to the 'real' thing?: 41:25
- What you're hearing now: 42:35
- '61 Vox AC30 & Iridium's AC30: 43:00
- Thoughts on the above: 44:15
- Real AC30 & Iridium with Strat: 45:10
- Thoughts after playing: 47:55
- Fender Super Reverb & Iridium – Strat (yes we know it's not the same amp!): 49:08
- Thoughts on the above: 52:16
- More Super Reverb & Iridium – Tele: 53:26
- Both real amps together: 56:40
- Yet more thoughts: 58:16
- 3,000 watts?! 1:00:30
- Applications of Iridium?: 1:01:09
- Why don't you just get a Helix or a Kemper?: 1:03:34
- The problem facing digital technology: 1:03:57
- We are entirely spoilt: 1:05:10
- Would we use it instead of our amps?: 1:06:00
- People want valve amps dead: 1:06:38
Guitars:
• Fender Custom Shop 1963 Telecaster - Dan's video at http://bit.ly/2dlZJ6K
• Gibson Memphis 1958 ES-335 - Mick's video at http://bit.ly/2mpJA8X
1961 Fender Stratocaster - no video yet 
Amps in this episode
• Fender Super Reverb (reissue) with 4 x 10-inch Jensen P10R speakers
• 1961 Vox AC30 with Celestion Alnico Blue speakers
Enjoy this episode. Please subscribe to our channel.
Buy TPS merch to support our efforts https://www.thatpedalshowstore.com
Patreon – crowdfunding for creatives
https://www.patreon.com/ThatPedalShow
Visit our preferred retailers!
UK & Europe: Andertons Music http://bit.ly/2cRvIvt
Australia: Pedal Empire http://bit.ly/2mWmJQf