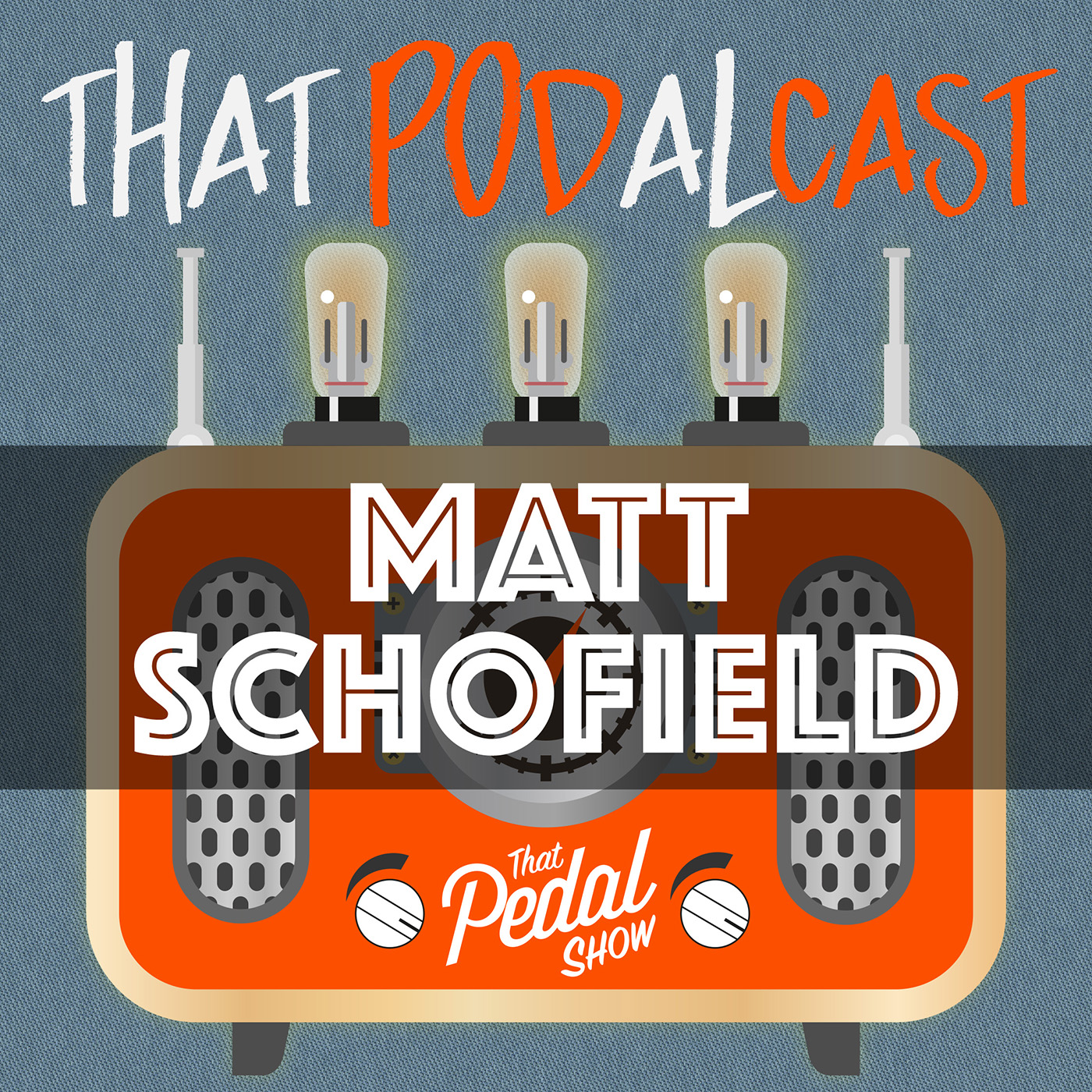 We're honoured to get a visit from our good friend, Matt Schofield. Matt is an astonishingly good blues-based player from the UK who we've known for many years.
This first aired as a video on our YouTube Channel, July 14 2017. https://youtu.be/shAtnDUXGlQ
These days Matt spends most of his time in the US, never ceasing to astound fans and audiences with his incredible touch, tone and sophisticated approach to blues guitar.
During this pedcast we ask Matt about his approach to guitar tone, his technique and all that other fun stuff that goes hand-in-hand with it. Matt brought along his pedalboard, his SVL 61 guitar and of course his signature Two-Rock amplifier, leaving us somewhat stunned – there's some killer playing, but also some really good general advice on tone and approach in this video.
Enjoy the episode!
FOR MORE ON MATT PLEASE VISIT http://www.mattschofield.com/
A NOTE ON NOISE AND HUM…
For this episode, Matt had his Two-Rock at proper gig levels. It is a phenomenal sonic and physical experience (which bizarrely never sounded painful or unpleasant) that's all part and parcel of his tone.
As a result, there is more hum and extraneous noise than normal (Dan is currently building Matt a new board to help with that, but that's another story).
The important thing to say is that we use NO hum reduction software or anything of the kind. What you're hearing is the vocal mic (gained very high to pick up the voices, plus plenty of compression) get faded up and down as Matt speaks. It gives an accentuated impression of the hum, even though it was pretty loud in our little room. When the amp mics are on, we use NO hum reduction, it's just that the mic on the cab is gained so much lower than our voice mic, so the hum doesn't seem anywhere near as loud. Hope that makes sense.
Pedals in this episode…
• Sonic Research ST-200 Tuner
USA:http://bit.ly/2ngtr4I
Australia: http://bit.ly/2mR1s8c
• Free The Tone MS SOV Matt Schofield Overdrive (Ltd Edition only, now discontinued)
(alternative) Free The Tone Custom Series SOV-2 Overdrive
UK & Europe: http://bit.ly/2t7OB8Z
• Mad Professor Royal Blue Overdrive
UK & Europe: http://bit.ly/2uo4vw2
Australia: http://bit.ly/2uWHM7g
• Vemuram Shanks 4K
UK & Europe: http://bit.ly/2unROkO
• Mad Professor Deep Blue Delay
UK & Europe: http://bit.ly/2ueERcD
Australia: http://bit.ly/2vhXZDi
• Henretta Crimson Tremolo
www.henrettaengineering.com
* Why do we have preferred retailer links? Find out here: http://www.thatpedalshow.com/partners
Amps in this episode:
• Two-Rock Matt Schofield Signature
• Two-Rock Classic Reverb Signature
http://www.two-rock.com/
Guitars in this episode
• SVL 61 http://www.svlguitars.com/svl-61.html
Interesting bits and go-to sections…
- Intro, background and some talk about organ trios: 00:00
- Play some tasty stuff, Matt? 6:50 - 9:28
- Is that slap delay always on? 9:35
- Outlining chords and a long discussion on 'sophistication' in blues playing: 12:35
- But can you learn it? 20:50
- "I'm a horrible session player" 22:00
- Matt's approach to setting up ANY amp: 26:03 / 27:03
- Tone pot on the bridge pickup… 31:00
- …and tweaking the pots on pedals: 31:20
- Good amps are like racing cars? 34:45
- "I never plug in at home!" 35:30
- What are you looking for in an OD pedal? 38:30
- Free The Tone MS SOV: 39:08 (46:55)
- Mad Professor Royal Blue OD: 41:56 (43:13)
- Do you care about noise and hum? 42:00
- Buffers and your clean tone: 44:25
- Does it always have to be loud? 47:30
- Vemuram Shanks 4K Fuzz: 50:30 (53:20)
- That second Mad Professor Delay: 56:30
- Henretta Tremolo: 57:04
- Checking out Mick's new Two-Rock (right at the end)
We hope you enjoy this podcast. Please subscribe to our channel.
You may even want to buy a T-shirt to support our efforts https://www.thatpedalshowstore.com
We are also on Patreon – crowdfunding for creatives
https://www.patreon.com/ThatPedalShow
Please visit our preferred retailers!
UK & Europe: Andertons Music http://bit.ly/2cRvIvt
USA: Riff City Guitar & Music Company http://bit.ly/2cyOYjD
Australia: Pedal Empire http://bit.ly/2mWmJQf