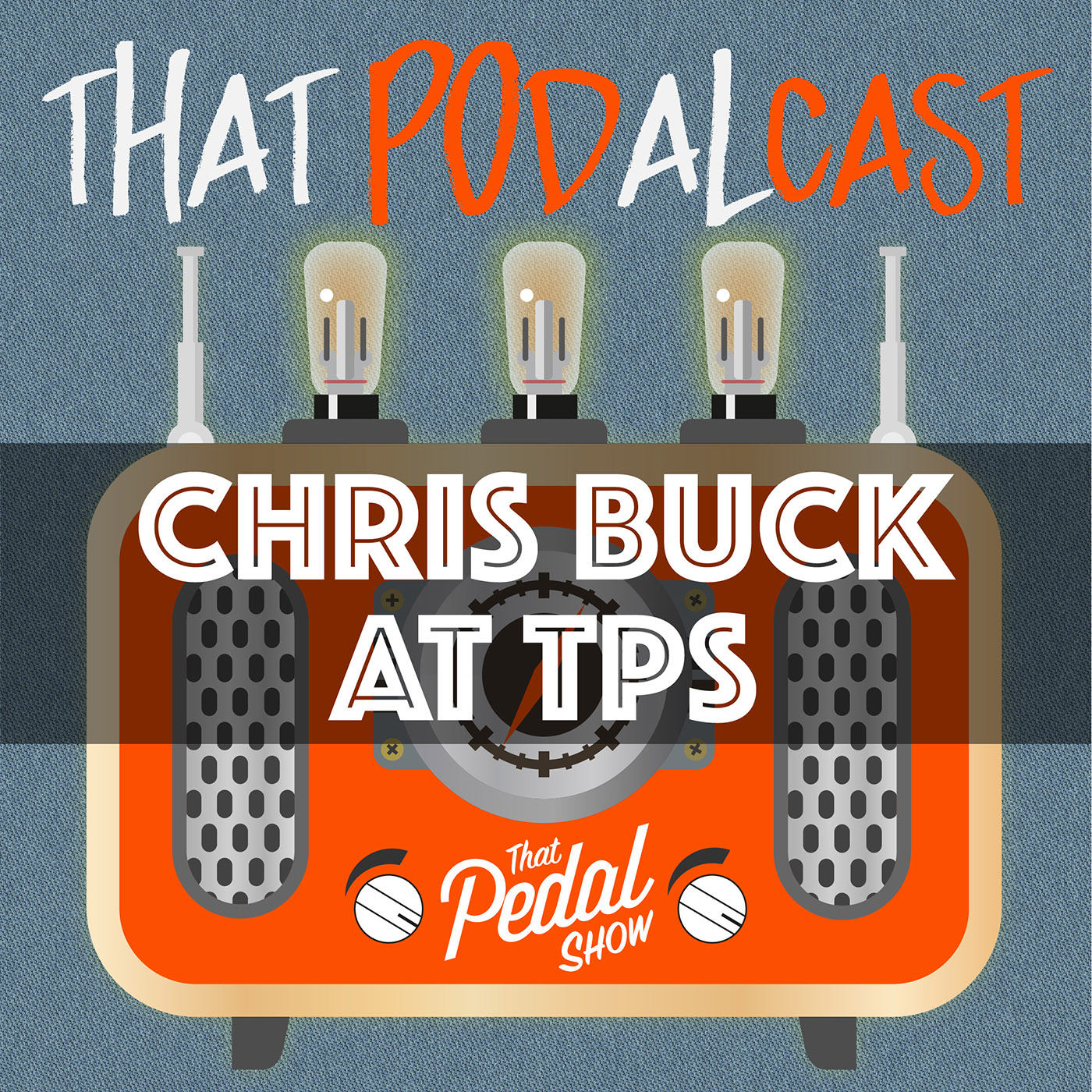 We are delighted to welcome the super talented, humorous and humble Chris Buck to the show.
This is the audioo from the YouTube show 10 Aug 2018: https://youtu.be/e6_54fhe9qw
Chris is a wonderful guitar player from South Wales, UK, whose #1 music project is his band, Buck & Evans. http://www.buckandevans.com/
Chris takes us through his pedalboard that's most notable for the sheer number of similar-ish overdrives on there! We get an insight into his playing style and technique not to mention a cheeky little Strat/Strat/Strat/Silver Sky comparison.
Massive thanks to Chris for taking the time to come and hang at Schwangri-La. Please check him out on all the usual social meedja!
Pedals in this episode…
• Boss TU-3 Chromatic Tuner
UK & Europe: http://bit.ly/2KGbkNf
USA: http://bit.ly/2M4EJGl
Australia: http://bit.ly/2B06quU
• Ramble FX Twin Bender Unprofessional MkII/I.V
https://www.ramblefx.com/twin-bender
• Ceriatone Centura Professional Overdrive
http://www.ceriatone.com/centura-professional-overdrive/
• Marshall Blues Breaker
No longer made
• Origin Effects Cali76 Compact Deluxe
UK & Europe: http://bit.ly/2cbsLUm
USA: http://bit.ly/2cyd9NR
Australia: http://bit.ly/2rPSRWo
• Analog Man King Of Tone
www.analogman.com
• Klon KTR
UK & Europe: http://bit.ly/2Malz19
• Paul Cochrane Tim
You have to contact him via Facebook or Myspace, apparently.
Or try Reverb, used.
• Lovepedal Amp 11
UK & Europe: http://bit.ly/2KIeK1H
• Keeley Katana Boost
UK & Europe: http://bit.ly/2MbvvZ6
USA: http://bit.ly/2MzX4r3
Australia: http://bit.ly/2vB1aZk
• Boss PH-1R Phaser
No longer made
• Mooer Trelicopter
UK & Europe: http://bit.ly/2i8yiDi
USA: http://bit.ly/2jxYDL8
• Way Huge Aqua Puss
UK & Europe: http://bit.ly/2IL5b2g
USA: http://bit.ly/2GdPC4S
• Electro-Harmonix Super Ego Synth Engine
UK & Europe: http://bit.ly/2nshMhG
USA: http://bit.ly/2OXMNq4
• Lovepedal/Hermida Rotary Reverb
No longer made
• Catalinbread Echorec
UK & Europe: http://bit.ly/2mORqUL
USA: http://bit.ly/2mP1eOt
Australia: http://bit.ly/2BWjXTM
• Empress Tape Delay
UK & Europe: http://bit.ly/2lY42Za
Australia:http://bit.ly/2OYPgAH
• Xotic EP Booster
UK & Europe: http://bit.ly/2ed1cvg
USA: http://bit.ly/2doDQW0
Australia: http://bit.ly/2OYhH1K
• TheGigRig QMX10
https://www.thegigrig.com/quartermaster
Why do we have preferred retailer links? Find out here: http://www.thatpedalshow.com/partners
Interesting bits and go-to sections…
- Intro playing & playing: 0:00
- You've got //that// thing: 2:58
- Late to pedals and forming your own voice: 5:45
- Alan Niven? 8:08
- That's a nice looking board: 11:30
- Marshall Blues Breaker: 13:08
- Origin Effects Cali 76 Compact Deluxe: 13:55
- Chris's amps: 14:25
- Klon KTR and Ceriatone Centura: 15:50
- King Of Tone and KTR comparison: 17:23
- Why so many OD pedals? 17:45
- Mick's thoughts on the above: 18:40
- Paul Cochrane Tim: 20:22
- Tim and KOT and KTR: 20:53
- Lovepedal Amp II 21:28
- Pick and fingers technique: 22:00 (25:10)
- Chris's signature pickups 30:30
- Wax potting: 31:55
- Strats! And the PRS Silver Sky: 36:19
- The story of Chris's Strat: 37:30
- Where did the second tone pot go? 39:58
- Three delay pedals? 40:52
- Catalinbread Echorec: 41:50
- Empress Echosystem: 42:20
- Way Huge Aqua Puss: 43:45
- Pedal order: 44:35
- Bluesbreaker, Cali 76, KOT and Aqua Puss: 46:30
- EHX Super Ego: 48:20
- Ramble FX Twin Bender: 51:34 (53:09)
- Centura and EP Booster on all the time: 52:40
- Hermida Audio Rotary Reverb: 54:50
- Boss PH-1 Phaser and the baguette: 56:50 (59:07)
- What about a Les Paul? 1:01:00
- Yamaha RevStar 502: 1:05:30
Guitars in this episode:
• Fender Highway 1 Stratocaster with Radio Shop ID: Chris Buck Signature Pickups http://www.radioshoppickups.com/stratocaster-pickups/
• Yamaha Rev Star RS502 https://uk.yamaha.com/en/products/musical_instruments/guitars_basses/el_guitars/rs/lineup.html#product-tabs
• Fender American Vintage '62 Stratocaster - watch Mick's video at http://bit.ly/2cQv3yT
• Fender John Mayer Signature Stratocaster (2008)
PRS Silver Sky https://www.prsguitars.com/electrics/bolton/silver_sky
Amps in this episode
• Blackstar Artist 30 https://www.blackstaramps.com/uk/products/artist-30
• Fuchs Clean Machine and 1x12 Zilla Cab with EVM12L speaker http://fuchsaudiotechnology.com/current-products/
You may even want to buy a T-shirt to support our efforts https://www.thatpedalshowstore.com
Please visit our preferred retailers!
UK & Europe: Andertons Music http://bit.ly/2cRvIvt
USA: Riff City Guitar & Music Company http://bit.ly/2cyOYjD
Australia: Pedal Empire http://bit.ly/2mWmJQf