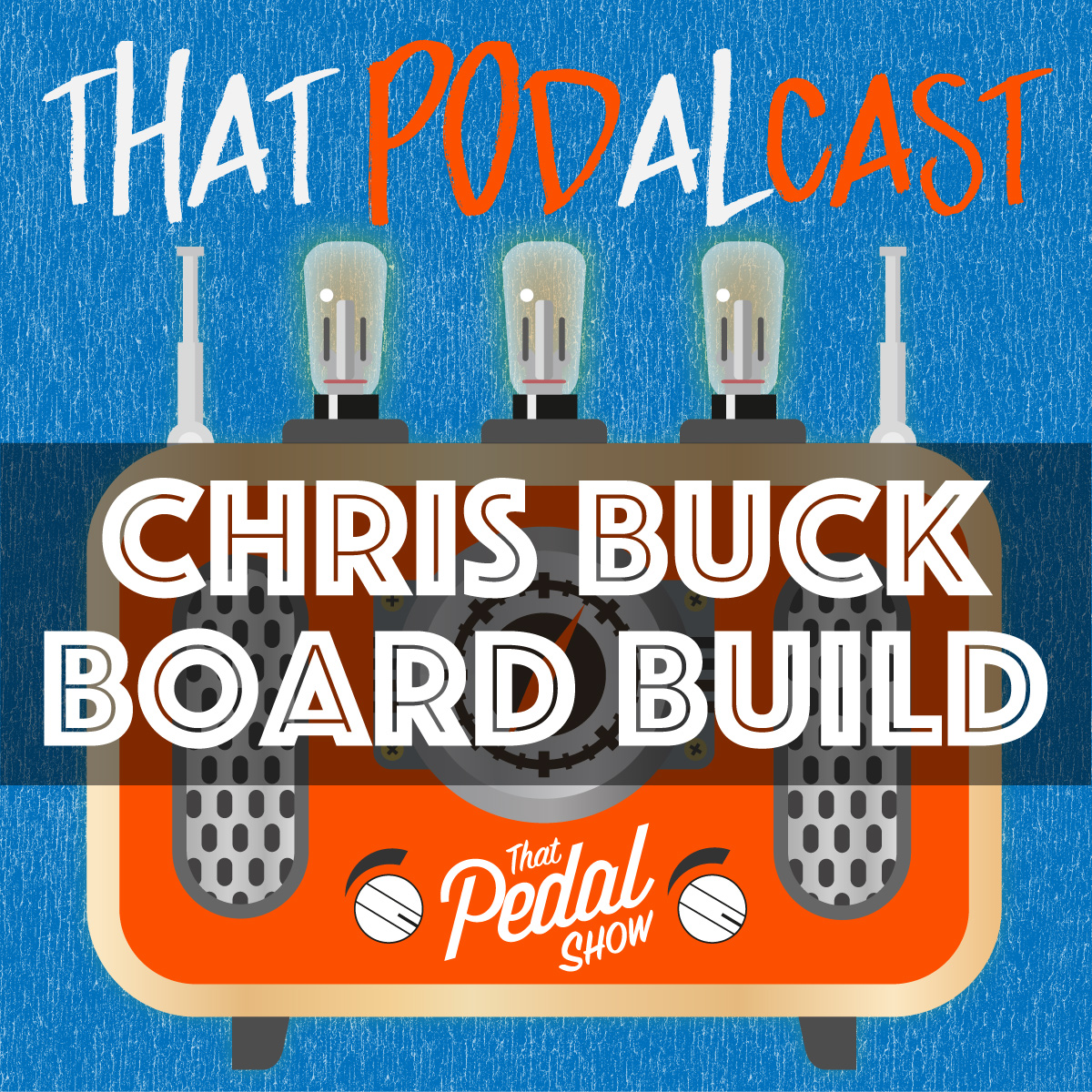 This is the audio from our video here: https://youtu.be/fNkdVZ2w3zU
In this episode we welcome the fantabulous Sir Christopher Of Buckshire back to TPS Manor. 
Chris is the Buck in Buck & Evans, about which you can discover more on ye olde Interwebs: http://www.buckandevans.com/
Chris visited us back in August 2018 where we made this video: https://youtu.be/T-hKSOz-VBw and in this visit he returns to update his pedalboard with a full G2-based system. Dan and Chris discuss the layout and other requirements before cracking on with the build. We then plug it in and have a good listen… of course.
Massive thanks to Chris for his time and always-excellent hangs!
Enjoy the episode!
Pedals & stuff in this episode…
• Alder & Ash The Earl Pedalboard
https://www.alderandashpedalboards.com/product-page/the-earl-standard
• TheGigRig Three2One
https://www.thegigrig.com/three2one
• Ceriatone Centura Professional Overdrive
http://www.ceriatone.com/centura-professional-overdrive
• Snouse Blackbox Overdrive 2
UK & Europe: http://bit.ly/2VCE9QL
• Analog Man King of Tone Version 4
http://www.analogman.com/kingtone.htm
• VSAudio Straight Flush
https://www.vsaudio.com/index.php/product/straight-flush/
• Origin Effects Cali76-CD Compact Deluxe
UK & Europe: http://bit.ly/2uVGMBL
Australia: http://bit.ly/2rPSRWo
• TheGigRig Humdinger
https://www.thegigrig.com/humdinger
• ThorpyFX Gunshot Overdrive
UK & Europe: http://bit.ly/2ecWCgK
Australia: http://bit.ly/2Fn89br
• GraceTone Effects FF-01 Fuzz
https://www.gracetoneeffects.com/fuzz-boxes
• Catalinbread Echorec
UK & Europe: http://bit.ly/2mORqUL
Australia: http://bit.ly/2BWjXTM
• Dawner Prince Boonar
UK & Europe: http://bit.ly/2lXzfON
• Hello Sailor Effects Custom Range Master
https://hellosailoreffects.weebly.com/
• Supro Delay
https://suprousa.com/delay/
• Supro Tremolo
UK & Europe: http://bit.ly/2pZrAkZ
• Love Pedal Rotary Reverb
www.lovepedal.com/rotaryreverb/
• Korg Pitch-black Mini
UK & Europe: http://bit.ly/32kWEwK
• TheGigRig Power
https://www.thegigrig.com/power
• TheGigRig G2
https://www.thegigrig.com/g2
* Why do we have preferred retailer links? Find out here: http://www.thatpedalshow.com/partners
Interesting bits and go-to sections…
- If we're going to do a fake intro, at least let's make it really wooden: 0:00
- 24? What? 0:53
- What is on Chris's old board? 1:00
- Chris's G2: 1:25
- Pulling the old board to bits: 2:40
- Thinking about layout: 3:50
- The Boss pedal bottom plate trick… and disco: 5:45
- Cable tie considerations for a tidy board: 6:30
- 13 pedals: 7:30
- Making audio cables: 9:50
- And another trick… 10:50
- Testing a patch cable: 13:00
- …hang on, we need to save some time here: 15:25
- Let's plug in: 16:45
- How Chris runs his amps: 17:00
- Ceriatone Centura: 17:35
- Chris's first reaction: 19:30
- Snouse Black Box OD 2: 21:05 (22:03, appropriately enough)
- The OD pedal journey: 23:00
- Are you embarrassed by your pedalboard? 23:28
- Origin Cali76 Compact Deluxe: 24:10 (25:39)
- Analogman King Of Tone: 27:55
- Centura - Cali76 - KOT: 29:15
- VS Audio Straight Flush: 30:00 (32:58)
- Centura - King Of Tone - Straight Flush: 33:54
- Thorpy Gunshot: 36:20
- Hello Sailor Treble Booster: 38:55 (41:45)
- Gracetone Fuzz: 43:30
- The wet-dry first listen: 45:35
- …with some delay: 47:20
- It is wet-dry, honest: 48:40
- Supro Delay: 52:17
- …and tremolo on the dry amp: 53:33
- Why two Echorec-style pedals? 57:15
- Chris plays us out: 1:00:06
Guitars in this episode:
• Fender Highway 1 '60s Stratocaster with Radioshop Chris Buck Signature ID Pickups
• Yamaha Revstar RS720B
Amps in this episode
• Victory V140 The Super Duchess and Zilla Custom 112/EVM12L Speaker
• Victory V40 Deluxe with Victory V112-WC-75
We hope you enjoy this episode. Please subscribe to our channel.
You can buy TPS merch to support our efforts https://www.thatpedalshowstore.com
We are on Patreon – crowdfunding for creatives
https://www.patreon.com/ThatPedalShow
Please visit our preferred retailers!
UK & Europe: Andertons Music http://bit.ly/2cRvIvt
Australia: Pedal Empire http://bit.ly/2mWmJQf
•Note about Riff City Guitar
It was with a heavy heart that Dan and I heard that Riff City was closing as of July 2019. This video was shot and edited before that which doesn't really matter… what does matter is that we want to thank Joe and everyone there for their support and friendship over the first years of TPS. We wish everyone involved with Riff City the vey best for the future – for absolutely sure when one door closes another one inevitably opens. Our very best to you Joe and team!