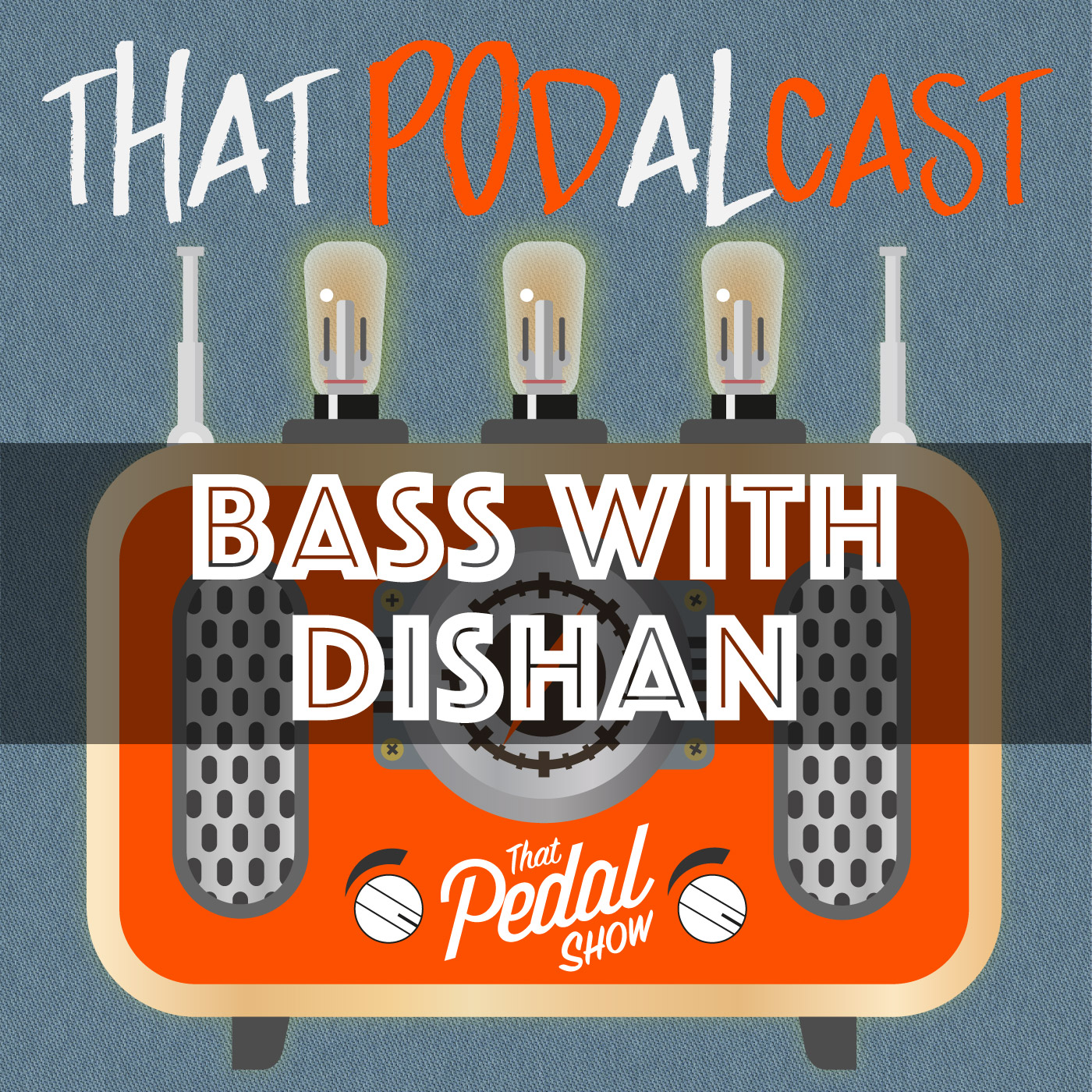 This is the audio from our YouTube video here: https://youtu.be/KVtekMLaDOI
Our first bass video!
In this video we welcome our great friend and utterly monster bass player, Dishan Abrahams. Dishan has a glittering list of credits including Kylie Minogue, Leona Lewis and many, many more. His current main gig is with UK singer/songwriter, Jess Glynne.
Before filming, Dan had put together Dishan's latest board, so we take the opportunity to go through it while talking more generally about the bass discipline and mindset.
You'll also notice the equally wonderful Dougie Mussard on drums to provide a bit of context for the bassing, not to mention un petit peu de jammage as well. Dougie and Dan have been playing together since before the dawn of time, so bless 'im he had no choice but to be the TPS Band drummer. Hooray!
We spectacularly managed to not have a bass amp handy, so we improvised with a JHS Colour Box and a powered PA cab for the room. The DI is treated to an Ampeg SVT and 8x10 Plugin via our Universal Audio Apollo 8P.
The drums are mic'd in the Glyn Johns fashion, and the guitar amps are mic'd as usual, so there's spill everywhere on the jams. Room baby, room.
And yes, the bass is high in the band mixes. It's a bass video!
Enjoy the video…
Pedals used in this video
• Boss TU-3 Tuner
UK & Europe: http://bit.ly/2KGbkNf
USA: http://bit.ly/2M4EJGl
Australia: http://bit.ly/2B06quU
• Aguilar Tone Hammer Preamp Direct Box
UK & Europe: http://bit.ly/2yBlpaa
• Origin Effects Cali76 Limiting Amplifier (compact version linked below)
UK & Europe: http://bit.ly/2BYRKwx
USA: http://bit.ly/2C5WXCM
Australia: http://bit.ly/2MCHxuu
• Panda Audio Future Impact 1
http://www.panda-audio.com/fi.php
• Boss OC-2 Octave
No longer made
• Boss OC-3 Super Octave
UK & Europe: http://bit.ly/2pQJrK8
USA: http://bit.ly/2dJOjwx
Australia: http://bit.ly/2OmfoZz
• Musitronics MuTron III
No longer made
• Tech 21 SansAmp Programmable Bass Driver DI
UK & Europe: http://bit.ly/2OqZBJf
USA: http://bit.ly/2OZ2FeI
Australia: http://bit.ly/2PyunMA
• Malekko Diabolik Analog Fuzz
Australia: http://bit.ly/2IUXwiA
• TheGigRig Quartermaster QMX8
https://www.thegigrig.com/quartermaster
Why do we have preferred retailer links? Find out here: http://www.thatpedalshow.com/partners
Interesting bits and go-to sections…
- Intro, board build shots and bloooooze: 00:00
- Oh no, the first thing we played as a band… 2:27
- Welcome! 2:30
- Hang on, did you say Kylie Minogue? 3:04
- Who is that behind the bangy things? 3:17
- Dishan's gigs: 4:10
- Playing bass, not easy: 5:15
- You can't be a passenger: 6:33
- Dishan's '63 Fender Precision Bass: 9:31
- Grooving: 10:00
- Dishan's bass 'amp' today: 11:20
- And the pedalboard: 12:48
- Origin FX Cali76: 12:55 (13:30)
- Aguilar ToneHammer Preamp: 15:25
- Panda Audio Future Impact: 17:25 (18:43)
- A bit more grooving: 19:52
- The original Akai Deep Impact: 21:05
- Boss OC-3 and OC-2 Octave pedals: 23:18 (24:01)
- Bass and synth crossover: 26:30
- Musitronics Mu-Tron III: 27:20 (27:52)
- SansAmp Programmable Bass Driver DI: 29:30
- Pedalboard at The Pyramids! 34:15
- How does it work in a mega band? 34:45
- Any advice for aspirant musicians? 35:45
- Dish's fave players? 38:45
- Did you go to bass school? 40:11
- Dishan gives Mick a brief bass lesson: 41:30
- Bass thinking vs guitar thinking: 43:00
- What is a ghost note? 43:55
- Drums and bass, that special relationship: 47:00
- Jam! 52:47
- More jam… 54:26
Guitars in this episode:
• 1963 Fender Precision Bass
• Fender Custom Shop 1963 Telecaster - watch Dan's video at http://bit.ly/2dlZJ6K
• Macmull S-Classic: https://www.macmull-guitars.com/s-classic.html
Amps in this episode
• JHS Colour Box / EV EKX12P powered speaker
• Two Rock Classic Reverb Signature and 1x12 cabinet / WGS12L speaker
• Audio Kitchen Big Chopper and 1x12 / Celestion Alnico Cream speaker
We hope you enjoy this video. Please subscribe to our channel.
You may even want to buy a T-shirt to support our efforts https://www.thatpedalshowstore.com
We are also on Patreon – crowdfunding for creatives
https://www.patreon.com/ThatPedalShow
Please visit our preferred retailers!
UK & Europe: Andertons Music http://bit.ly/2cRvIvt
USA: Riff City Guitar & Music Company http://bit.ly/2cyOYjD
Australia: Pedal Empire http://bit.ly/2mWmJQf