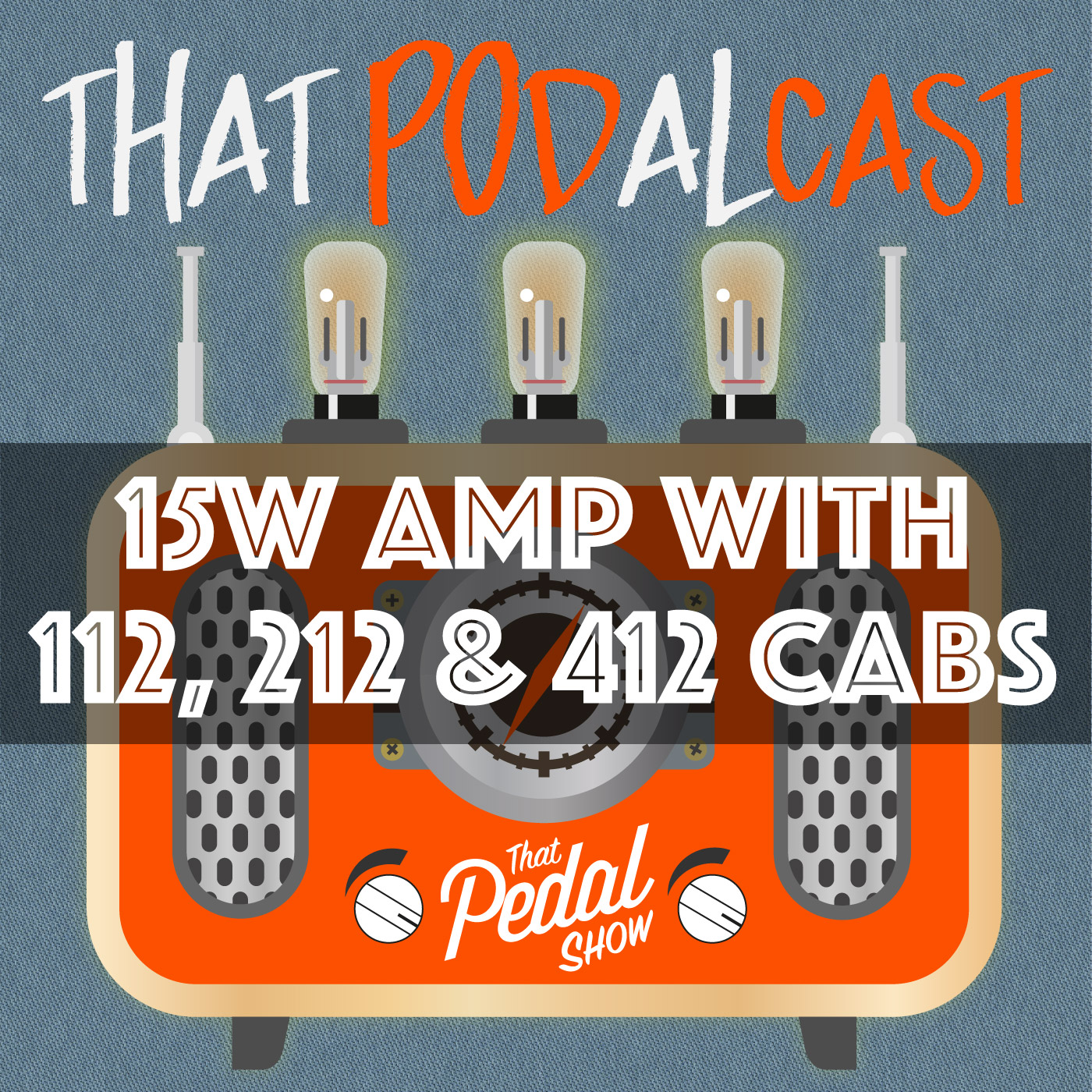 This is the audio from our YouTube video here: https://youtu.be/XBOjIVs4b7o
In this episode we take a popular 'small' guitar amp – Fender Bassbreaker 15 1x12 combo (Celestion V-Type speaker), and put it through a couple of bigger extension cabinets, to see what we hear and feel.
The cabs are a Victory V212VC 2x12 with two Celestion G12M Creambacks… and a Marshall 1960A 4x12 with four Celestion G12M Greenbacks.
The settings for the Bassbreaker 15 amp throughout are:
Lowest gain mode
Gain 10 o'clock
Bass 11 o'clock
Middle 11 o'clock
Treble 1 o'clock
Master 3 o'clock
Reverb varies
We also use a selection of OD pedals along the way to see what they bring to the party. Towards the end, we go super low on the volume with a Z Vex Nano Head Tube Amp through the 4x12 and discuss how it sounds and feels.
Questions that will come up from people annoyed this isn't a lab style A/B comparison…
Q: Why didn't you use the same speaker types?
A: We don't have that many of the same type, and the differences between them are just as interesting, we think.
Q: The amp is running at different impedances: surely that makes a big difference?
A: Yes it will. But... 412s and 212s are often different impedances from your amp's internal speaker.
Q: Two cabs are open back, one is closed – does that make a difference?
A: Certainly. And it will vary significantly depending on the size, shape and decoration of the room in which you're playing.
Q: Why do this at all – a pointless and arbitrary comparison?
A: Maybe, but, ultimately there are no answers, only better questions and the point of all TPS videos is to arm you with some of the latter to spark some inspiration for your own tonal journey.
Mick's post-ep thoughts…
"Hmm. What we're hearing and feeling in the room was quite different from what the mics captured. We were both 'struggling' with the quietness and relative lack of headroom from the Bassbreaker, and of course the Z Vex Nanohead was super quiet, as we discuss. Yet when recorded, everything sounds big and full and fat – really good in fact!
"It underlines the frustrating old truth. As careful as we are with recording and mixing, YouTube videos really don't deliver the physical experience of actually being in the room. So… please get out there and try things, people – the tone will be familiar, but the actual physical experience of it may be very different!
Pedals in this episode…
• TheGigRig Three2One
https://www.thegigrig.com/three2one
• D'Addario Pedal Tuner
UK & Europe: http://bit.ly/2tIN4lD
USA: http://bit.ly/2x4Bm6m
Australia: http://bit.ly/2tfHqHN
• Wampler Pantheon
UK & Europe: http://bit.ly/2POI0eU
USA: http://bit.ly/2R9c8OK
Australia: http://bit.ly/2zwyfFn
• True North Tweed Drive
https://www.truenorthpedals.ca/
• Z Vex Box Of Rock
Australia: http://bit.ly/2JbC5JS
• NRG Kicker 5457
https://shop.nrgeffects.com/kicker-5457
• Dunlop EP-103 Echoplex
UK & Europe: http://bit.ly/2cQsuNc
USA: http://bit.ly/2cLB8JH
• Keeley Eddie Heinzelman Verb O Trem
UK & Europe: http://bit.ly/2TWwmwY
USA: http://bit.ly/2E5wlC9
Australia: http://bit.ly/2zxLl7Y
• TheGigRig G2
https://www.thegigrig.com/g2
Interesting bits and go-to sections…
- Intro playing: 0:00
- What are we doing? 1:27
- Today's amps: 2:04 (2:40)
- The reality of many modern stages: 5:04
- The Bassbreaker 15 base tone: 7:50
- Bassbreaker and BOR, Les Paul: 9:15
- … and PRS Silver Sky: 10:00
- Dan ponders the volume of acoustic drums: 10:50
- The Bassbreaker settings: 11:27
- Reverb? 12:00
- That guitar is LOUD! 12:50
- …ah, thats why: 13:37
- Z Vex Box Of Rock and volume lift: 15:50
- Easier to make small amps sound big when recorded? 16:25
- True North Tweed Drive and BOR compare: 17:53
- The cab comparison finally begins: 19:15
- What is that 212? 21:02
- Bassbreaker 112 & 412 comparison: 22:09
- How are we mixing audio? 24:10
- More of the True North: 33:45
- BOR, Les Paul and all cabs: 30:44
- Different depending on where you stand: 33:45
- NRG Kicker 5457 and single coils, all three cabs: 37:20
- Z Vex Nanohead! 45:00
- Have we learned anything? 55:58
Guitars in this episode:
• Gibson Custom 1958 Les Paul Standard – video at http://bit.ly/2dbwbvS
• PRS Silver Sky: https://www.prsguitars.com/electrics/bolton/silver_sky
• Macmull S-Classic: https://www.macmull-guitars.com/s-classic.html
Amps in this episode
• Fender Bassbreaker 15 combo
UK & Europe: http://bit.ly/2AwROzJ
USA: http://bit.ly/2zwItrT
• Z Vex Nano Head Tube Amplifier
https://www.zvex.com/products/nano-head-tube-amplifier-micro-amp
Please subscribe to our channel and visit https://www.thatpedalshowstore.com
We are also on Patreon – https://www.patreon.com/ThatPedalShow
Please visit our preferred retailers!
UK & Europe: Andertons Music http://bit.ly/2cRvIvt
USA: Riff City Guitar & Music Company http://bit.ly/2cyOYjD
Australia: Pedal Empire http://bit.ly/2mWmJQf